PROVEN ENERGY
CLIMATE ACTION PLAN
Proven Energy has always been passionate about renewable energy, but our sustainability goals don't end there. There's a whole planet to save, and we want to do our part.
We've worked hard to ensure we've minimised our carbon footprint, and we're proud of the actions we've taken to date.
In the last few years, here are a few steps we've taken towards sustainability:
Installing 39 kilowatts of solar on our head office to maximise our green energy use

Helping our customers choose brands that work hard to minimise their carbon footprint during the production process, such as REC

Retrofitting our office with LED lights to minimise bulb replacement and electricity use

Minimising printing, and using digital systems to track and deliver work whenever possible

Daily recycling of 95% of cardboard, cable and soft plastics that return from job sites

Encouraging our staff to use reusable drinking containers, and offering bins to recycle any single use containers from soft drinks and food

Working with community groups such as Better Futures Australia, HOPE Australia and Renew, to spread important messages about the environment and how we can help.
Although we've worked hard to implement sustainable work practices at Proven Energy, we know there are always more steps we can take to reduce our carbon footprint and help our business and our customers help the environment.
Some of our future goals include: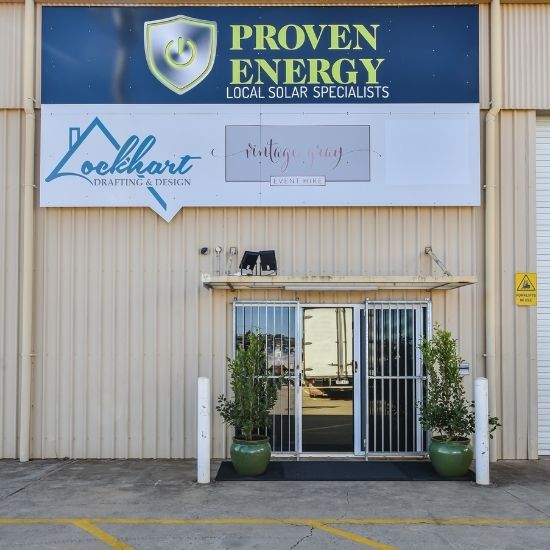 Purchasing a granulator to allow us to process and recycle more of the cable and wiring left over after electrical installations and upgrades

Working with local businesses to begin our own

recycling facilities to keep panels and inverters out of landfill

Donating second-hand panels to local upcycling community projects

Encouraging our customers to read and sign paperwork digitally, lowering the amount of paper and other resources our customers consume

Moving even more of our marketing online, minimising the paper and print consumables we use each and every day
TESTIMONIALS
Proven Energy designed and installed a solar solution tailored to my home's energy needs and budget. In the 12 months since my solar was installed, my electricity bill has been wiped out and now I receive regular cheques for surplus electricity fed back into the grid. My whole system will have paid for itself in less than 3 years.
Tim, Withcott
TESTIMONIALS
Prompt reply and service. Friendly, tidy and has pride in his work. Unusual to find a young tradesman as reliable these days. Will be recommending him.
Alan
TESTIMONIALS
Very friendly and helpful. Quick to complete the job and clean Good price.
Dale
TESTIMONIALS
They responded quickly to my ad and I found their business really professional.
Colette
TESTIMONIALS
100% recommended. Prompt service, absolutely brilliant customer relationship and I'm very happy with the job.
Kathleen Wincen
TESTIMONIALS
Friendly, professional, explained options, stuck to quoted price, came back to property to check one room, found problem, fixed it at no charge. Problem was not something this electrician caused but rather a problem caused by a former home DIYer.
Rosie
About
We're a proudly local company which provides sales and services across Southern Queensland and Northern NSW. Proven Energy was founded on the belief that customers should receive high quality service and personalised advice.
Ready to save on your energy bill?