Do you like paying power bills? Commercial solar installations can pay themselves off in as little as two years in the right conditions. Reducing operating costs and increasing profits is a priority for most businesses and solar installations help you do both. 
A commercial solar system is an excellent way to reduce building operating expenses by lowering the ever increasing electricity bills and leveraging additional future profits. 
Now is a great time for Australian businesses to take advantage of the generous Government solar financial incentives and low-interest green energy easy approval loans which can assist to make any installation cost neutral and cash flow positive from day one.
9 Great Reasons to Transition to Commercial Solar
Reduce business operating costs and increase profits

Reduce building heating & cooling expenses and lower electricity bills

Take advantage of generous Government financial incentives

Low-interest green energy easy approval subsidised loans are available

Cost neutral installation and cash flow positive from day one

Substantial feed-in tariffs available

Achieve competitive advantage – showcase your business's green credentials

Reduce your carbon footprint and offset your business's carbon emissions

Demonstrating to your employees that you're willing to invest in everyone's future
"Businesses and industries have the biggest potential by far for savings, and the shortest ROI; CFOs and accountants love solar investments," Peter Sutrin, Director
The average homeowner loves it, yet a business' daytime power usage can be matched by solar production. This makes for amazing self consumption with the highest possible savings. 
Quantities at scale make commercial solar much more economical, comparatively. Couple this with ideal usage and production, this will make for profits and the best return on investment.
Green initiatives are a popular strategy for a commercial enterprise to achieve competitive advantage in their industry by marketing the business's green credentials. 
It is also a way of demonstrating to employees that the business is willing to invest in everyone's future, not only increasing company pride but also staff morale and productivity. Generating your own electricity from solar reduces your carbon output and could offset most, if not all, of your business's carbon.
Contact us today for your obligation free solar quote and find out how much you can save on your commercial operating power costs.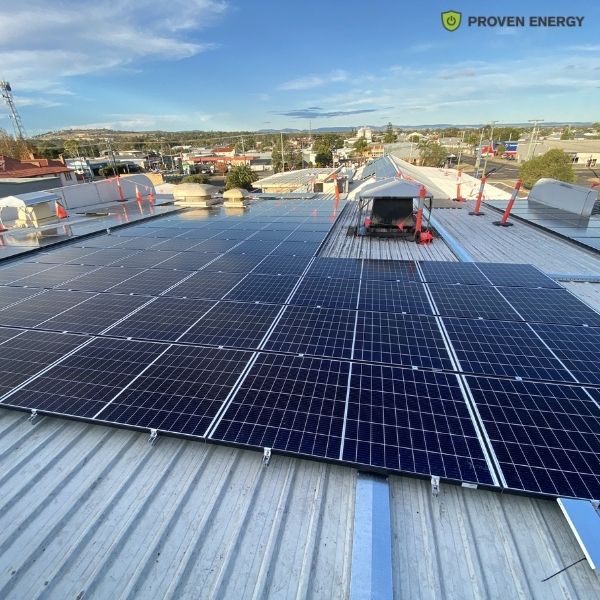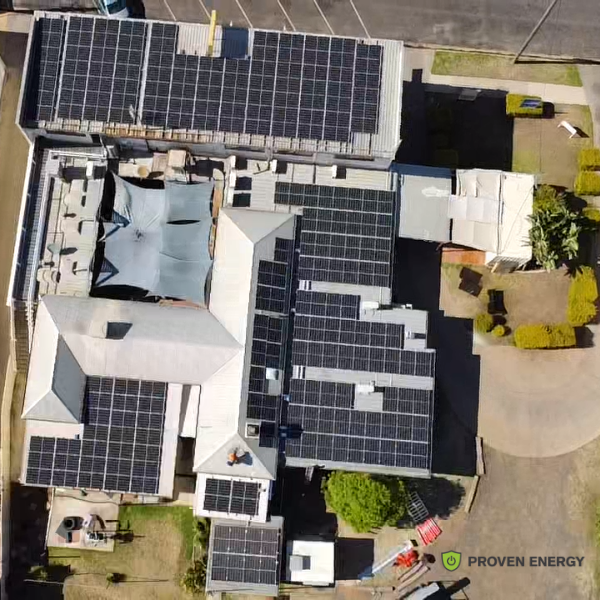 TESTIMONIALS
Proven Energy designed and installed a solar solution tailored to my home's energy needs and budget. In the 12 months since my solar was installed, my electricity bill has been wiped out and now I receive regular cheques for surplus electricity fed back into the grid. My whole system will have paid for itself in less than 3 years.
Tim, Withcott
TESTIMONIALS
Prompt reply and service. Friendly, tidy and has pride in his work. Unusual to find a young tradesman as reliable these days. Will be recommending him.
Alan
TESTIMONIALS
Very friendly and helpful. Quick to complete the job and clean Good price.
Dale
TESTIMONIALS
They responded quickly to my ad and I found their business really professional.
Colette
TESTIMONIALS
100% recommended. Prompt service, absolutely brilliant customer relationship and I'm very happy with the job.
Kathleen Wincen
TESTIMONIALS
Friendly, professional, explained options, stuck to quoted price, came back to property to check one room, found problem, fixed it at no charge. Problem was not something this electrician caused but rather a problem caused by a former home DIYer.
Rosie
About
We're a proudly local company which provides sales and services across Southern Queensland and Northern NSW. Proven Energy was founded on the belief that customers should receive high quality service and personalised advice.
Ready to save on your energy bill?