Sonnen Batteries are leading the way in creating the next generation of electricity supplier; you. 
With integrated technology, you can now become part of a Virtual Power Plant (VPP) with the installation of a single battery. 
The batteries allow integration with thousands of other households, creating true independence from conventional electricity retailers and ever increasing prices. 
"Did you know? Sonnen Batteries are made in Australia, produced in the old Holden factory."  
As part of the Sonnen community, battery owners can choose to connect to the sonnen VPP (Virtual Power Plant) which helps stabilize the grid, and in return receive either a flat monthly bill offer or receive a daily payment.
Sonnen Batteries can also be used as stand alone batteries, with features such as a ten year warranty and extra long battery life setting them apart as industry leaders. 
With Lithium Iron Phosphate cells, smart storage optimisation, mobile integration and intuitive power management, Sonnen delivers quality storage solutions for everyday households. 
Sonnen is smart home ready, meaning your system can grow and integrate with your home, offering ease of use and in depth data usage insights.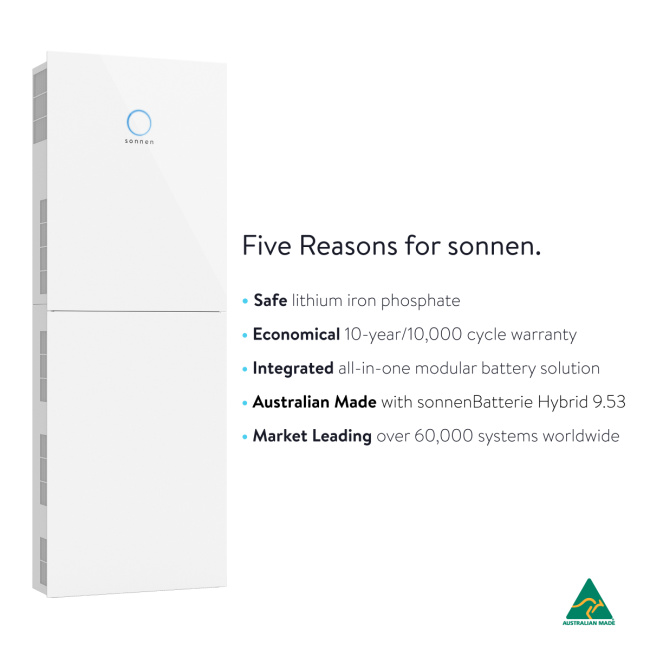 How the Sonnen Battery Works
Batteries work by depositing solar produced during peak times of production, such as midday, and storing it against times of high demand, such as early morning and evening. 
This means you can depend on your solar system to supply your needs, with the backup of a battery, at all times of day or night. 
The battery also offers the option to switch between using grid power, or supplying your energy needs completely from your own storage or the Sonnen network. 
For additional energy needs, your Sonnen system is expandable, with the option of adding additional batteries as your needs increase. 
Want more details? Get in touch with Proven Energy and we'll talk you through what Sonnen can offer in your area.